Our On-stop-shop with 100,000 square feet facility. Started operations since 2015 providing Sheet metal fabrication, welding, powder coat (up to 2,100 salt spray hours) and final assemblies to customers in Northern Mexico and USA. This facility is located in Monterrey, Mexico; only 138 miles from the U.S. border.
Laser Cut
Laser Tube Cutting and Bending
Turrent Punch Presses
Press Brake Forming
MIG, TIG and Spot Welding
Hardware & Assembly
Machining
Stamping presses
Special Packaging
Powder Coat
Assembly lines
Secondary Services as per request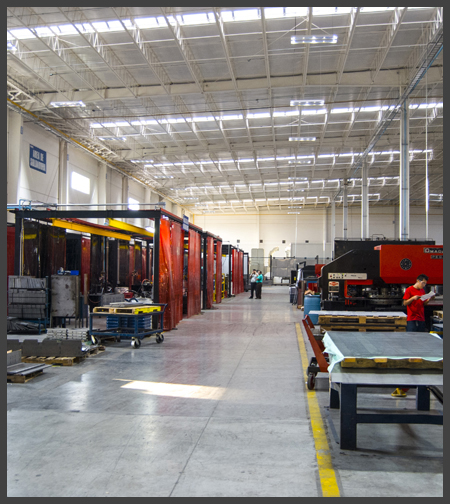 Aztek implemented a powder coating system consisting of a 5-stage pretreatment process and using Nano Ceramic technology, providing corrosion resistance of more than 2,100 salt spray hours.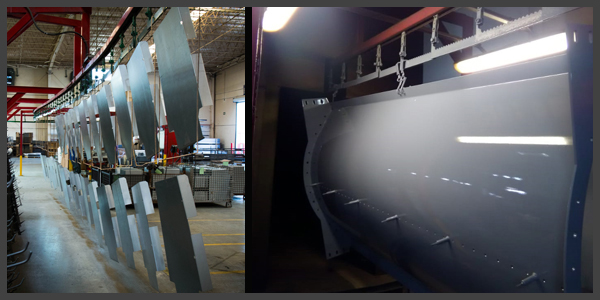 Two powder coating cabins:
One Automatic Powder coating cabin with 12 automatic and 3 manual guns, for a more precise control on paint thickness
One Fast Track cabin for quick turnaround prototyping and low volume runs
Dimensional capacity: Up to 2.5 meters (100") height and 5.8 meters (200") long
Quality Improvements:
Recently installed a Climate controlled cabin to eliminate the possibility of paint contamination. The cabin also controls temperature and humidity, two key variables affecting the paint process
Powder inspection with Coating Thickness meter
Additional equipment:
Three Fiber Lasers 4KW - Sheet and Tube: the fastest cutting system in the market. Extremely productive fiber laser system that delivers unmatched speed, accuracy, and edge quality, even on thick plate material
Laser Cut with Rotary index: can process all types of tubing including round, square, rectangle, c-channel and angle iron
New Press Brake with Automatic Tool Changer: Perfect for small lot sizes and complex tool layout with a quicker and precise tool set-up compared to manual operations
Salvagnini automation line: Designed to operate in a totally automatic and integrated manner, the system punches, shears and bends metal parts, optimizing production lead-times and improves workshop logistics
Two Modula vertical storage systems for a better inventory control